We received Nike as an older adult to better our breeding program. Nike is a direct import from Betelges Kennel in Serbia. Nike's grandfather on his paternal side was Pathos della Querce Nere (IDC Sieger, AIAD Sieger, IDC Young Sieger, International Champion, IPO1, ZTP 1B ECC). Nike's grandfather on his maternal side was Fedor del Nasi (IDC Sieger, International Champion, Balkan Winner, IPO1, ZTP). Nike comes from a long line of work and show European champions.
Nike has an awesome personality and demeanor. He does extremely well around people (adults and children). Nike received obedience and protection training as a young adult. Since we received Nike later in his life, we will train him for fun. Nike is full of energy and spunk!
Nike Betelges – Pedigree Database webpage (click on this link to see an interactive pedigree of Nike)
Measurements:
Height at Withers: 28 inches
Bodyweight: 90-95 pounds
Health:
vWD
Nike has been DNA tested for copies of vWD. There are three categories for vWD status: clear, carrier, and affected. Nike has two normal copies of the gene associated with vWD. So, he is clear. When he is bred, we ensure that he is mated with a female that is either clear or carrier so that all puppies are guaranteed to not be affected. The mating of clear to clear and clear to carrier is common practice in Doberman breeding.
DCM
Nike had an OFA preliminary cardiac test when he was younger and the result was normal.
The standard protocol for determining DCM status of Dobermans are the following tests: Auscultation, 24-hour Holter, and Echocardiogram. Auscultation is the listening of the heart. 24-hour Holter is the recording of the heart's electrical activity during a 24 hour period. The Echocardiogram is a sonogram showing the anatomy of the heart.
At the age of 8, Nike had these three tests administered by board-certified cardiologists. Nike's ausculation was perfect. Nike's 24-hour Holter results came back clear with no signs of heart disease. Nike's echocardiogram was normal. Nike received an OFA rating of Normal for Cardio.
Hip Dysplasia
Nike had an OFA preliminary hip test done when he was younger and the result was normal.
Structure:
As a youth, Nike earned IABCA National and International Junior titles.
Longevity:
On June 21st of 2021, Nike Betelges turned 10 years old and received his Longevity Certificate – 10.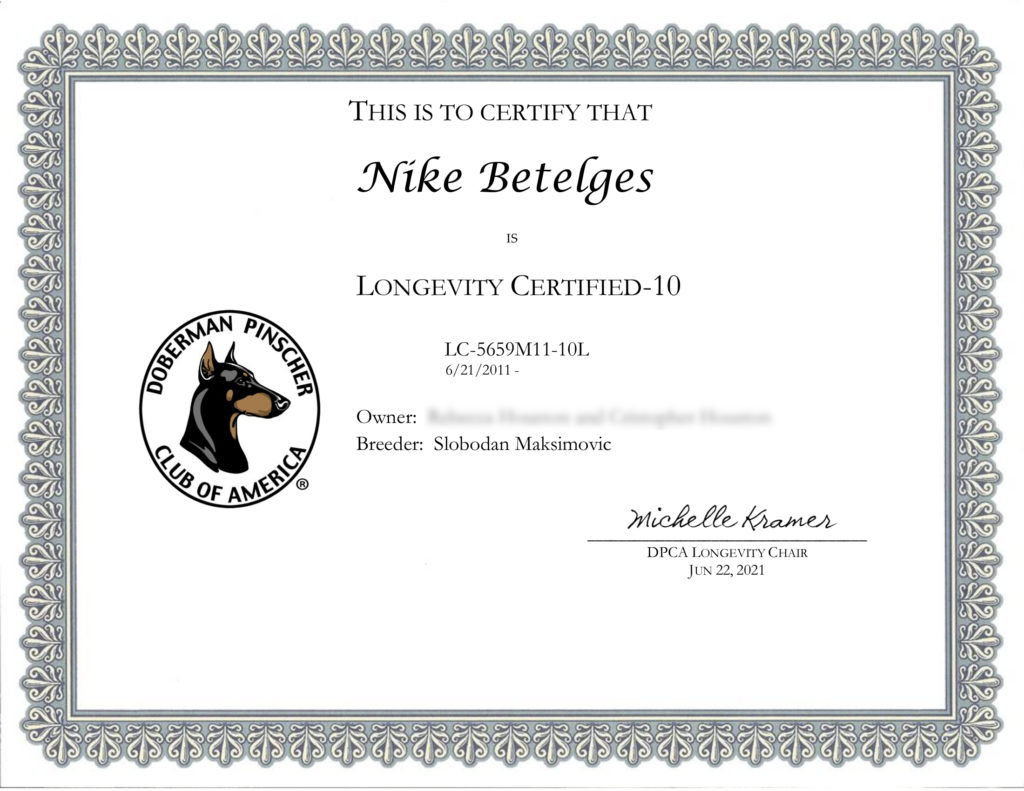 Coat Color:
bbDD (Brown, Non-Dilute)
Pedigree:
Pedigree Name: Nike Betelges
Call Name: Nike
Parents: Dante delle Querce Nere x Dunja Betelges
Birth Country: Serbia 
Current Country: United States
*The KSS FCI EXPORT pedigree shows work and show titles of dogs in pedigree.
DNA:
Nike's DNA identification has been analyzed and recorded with AKC.
Pics of Nike:
Notable Dogs in Pedigree:
Dante della Querce Nere (Italian Champion; ZTP SG1A, ENCI 2; HD-A, PHPV/PHVTL Free, vWD Clear

)
Father to Nike
Dunja Betelges (2 x CAC, Youth Ch Serbia, 4 x Youth Champion;

HD: a1

)
Mother to Nike
Pathos della Querce Nere (
IDC Sieger, AIAD Sieger, IDC YoungSieger
,

Intl Champ

;

IPO1, ZTP 1B ECC

;

HD-SV: HD a-normal (a1)
Grandfather to Nike
Ca'stellamaris Corinne

(Int'l Ch, San Marino Ch.; ZTP 1B ECC., ENCI 2, IPO1; HD-A)
Grandmother to Nike
Fedor del Nasi (INT.CH, BALKAN WINNER, IDC SIEGER;

IPO1, ZTP

; 

Hip: HD A

)
Grandfather to Nike
Night Betelges (Youth Ch.;

ZTP

)
Grandmother to Nike
Urbano del Diamante Nero

 (AIAD Ch.; 

IPO1, ZTP V 1A

; 

HD-HD.A

)
Great-grandfather to Nike
Ninette della Sinvessa (Int. Ch.;

IPO1

; 

HD-SV: HD a-normal (a1)

)
Great-grandmother to Nike
Baron Nike Renewal
(INT'L.MULTI.CH, V1 IDC'97,

IDC Sieger '98, V1 Eurosieger '98

; 
SCHH1
;
Hip: HD a-normal (a1), VWD Clear, PHTVL/PHPV-Free

)
Great-grandfather to Nike
Akuna-Matata de Grande Vinko 
(Russ.Bulg. CH; 
SCHH1, ZTP
;
HD: 
Free

)
Great-grandfather to Nike
Livonijas Baron Heart of Hamlet

 (INT'L CH., MULTI CH.;

IPO
1, ZTP
;
Hip: SV: HD a-fast normal (a2) – Elbows: SV: HD a-fast normal (a2)

)
Great-grandfather to Nike
Virginia Betelges

 (INTCH.;

SchH
1
)
Great-grandmother to Nike
Videos of Nike's Parents & Grandparents: